Today's post is the last of our
Dream Home Challenge
series. After this, all we have to do is build!
Over the past month we have daydreamed about bedrooms, bathrooms, living and family rooms, kitchens, architecture, and backyards. I'm wrapping things up and putting the finishing touches on my beachy-mountains-modern-traditional-cottage-mansion dream house
(go with it)
with a few last bonus rooms.
The first bit of extra space I'd like in my dream house is a craft room and office. I'm severely allergic to clutter, so my rule to keep clutter at bay is that everything in the house should have a designated spot, somewhere obvious and easy where it can be put away neatly. The time when my rule becomes difficult to follow, though, is when I want to create. My least favorite parts of sewing, for example, is the clean up. Currently, in our one-bedroom apartment, sewing is a bit of a commitment--I have to clear space on the dining room table, pull out the sewing machine, iron, ironing board, and a few boxes of materials from various spots in the apartment's storage areas. And it had all better be finished and put away before the next meal, or I'm mixing food and fabric. So having a designated room where I can leave everything mid-stitch and shut the door between projects would be pretty nice!
I love all the storage space and the huge table:
I like how this tidy armoire on the right opens to transform into an elaborate sewing table with lots of surface area!
Speaking of surface area, the task of laundry could be made more enjoyable with a big table to fold or dry clothes. I also love how the convenience of a sink in the laundry room.
How clever to dress up the laundry room with photos displayed on hangers?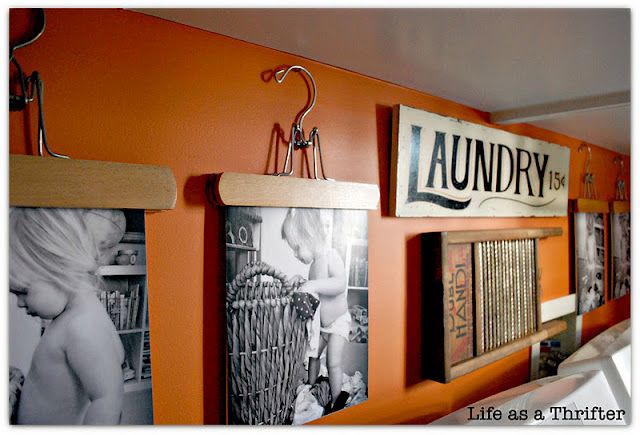 Finally, a butler's pantry to store serving bowls and platters as well as all kinds of pantry items tucked out of view would be key. This one has nice detail.
While I have exhausted my brain daydreaming about a future dream mansion, I'm sure I'll continue to come across gorgeous photos to post here from time to time. And in the mean time, I will relish in my ability to leave my cozy bed, walk 5 steps to the kitchen for a cup of coffee and 5 more to my patio. Simple living is good, too :)
Check out Meredith's final Dream Home updates
here
.
Summing Up Our Dream Homes: